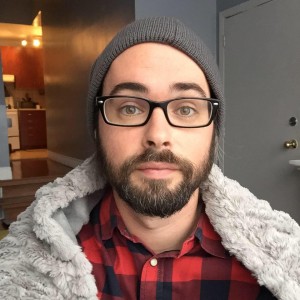 Aaron Tucker is the author of the forthcoming Virtual Weaponry: The Militarized Internet in Hollywood War Films (Palgrave Macmillan) and irresponsible mediums: the chesspoems of Marcel Duchamp (Bookthug Press). He has also published two other previous books: Interfacing with the Internet in Popular Cinema (Palgrave Macmillan)  along with the poetry collection punchlines (Mansfield Press). More information can be found at Wikipedia, ELMCIP, and Scalar.
His current collaborative project, Loss Sets, translates poems into sculptures which are then 3D printed (http://aarontucker.ca/3-d-poems/); he is also the co-creator of The ChessBard, an app that transforms chess games into poems (http://chesspoetry.com).
An earlier version of punchlines was released by above/ground in the summer of 2013. His poetic works and reviews have been published across Canada. His previous chapbook, apartments, was shortlisted for the 2010 bpNichol Chapbook award.
In addition, he is a lecturer in the English department at Ryerson University where he is currently teaching essay writing and digital literacy to first year students. You can reach him atucker[at]ryerson[dot]ca