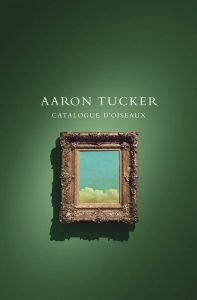 Purchase here or any independent bookstore!
Catalogue d'oiseaux (Book*Hug Press, Spring 2021) began as notes sent to poet Aaron Tucker's long-distance partner. Not initially intended for publication, the writings moved, over time, into a long, lyrical, confessional love poem. Following the couple on travels across the globe—from Berlin to the Yukon, Porto to Toronto—this poem is expansive, moving sensually through small, intimate spaces and the larger world alike. Traced through art, architecture and the cultural life of varied cities, Catalogue d'oiseaux lives between geographies and chronologies as a kaleidoscopic gathering of the many fractals that make up a couple's life. This is a stunning work; a celebration of the depth of adult love, and the elemental parts of life that make it so.
Best of 2020-2021: Poetry Books & Poetry Collections —Entropy
Review by Shazia Hafiz Ramji, Hamilton Review of Books
Review by Jonathan Ball, Winnipeg Free Press
Thanks to knife | fork | book for hosting a book length reading of Catalogue d'oiseaux:
The following videos detail the writing of the book, plus a reading from the text; the final video the recording of the April 13th launch of the text also featuring the work of Adam Seelig, Lia Tarachansky, Daniel Scott Tysdal, Kirby, Shazia Hafiz Ramji, and Julia Polyck O'Neill.
Catalogue d'Oiseaux, Toronto < — > Mainz-Kastel is a chapbook released in April 2018 by above/ground books that is an excerpt from an ongoing larger poem that stitches together travel and art and love. Buy a copy now! You can read an excerpt from a different part of the poem at Chaudiere Book's National Poetry Month blog and an excerpt from the chapbook below: